Nuggets and Hornets on tap
The San Antonio Spurs (28-7, 2nd Western Conference) recovered from their two point loss to the Atlanta Hawks (19-16, 5th Eastern Conference) by taking it out on the Toronto Raptors (23-11, 2nd Eastern Conference) with a 110-82 whipping.  Kawhi Leonard had 25 points and LaMarcus Aldridge chipped in 23 as the Spurs held them to a season low 82.
"That was a championship performance by a championship team," Toronto coach Dwane Casey said. "That's the way you come out with a championship approach and desperation mode and we didn't meet it. It started from the first play of the game."
Tony Parker looked like a younger version of himself as he weaved his way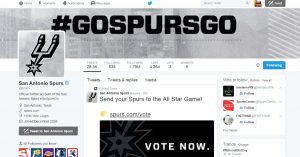 through the Raptors defense, dishing out eight assist and scoring 15 points in 23 minutes of work.  The Spurs were deadly shooting 55% and collected 32 assists on 43 shots.
"Even when he's not making (his tear-drop shot), guys always have to respect him getting to the lane," Leonard said. "He has a vision to see us out there. He's always drawing two guys and someone's always open."